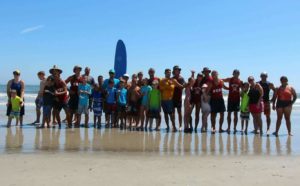 The Heart of Surfing has a

mission

to bring families together with a focus on fun and enjoyment.  Since 2014 our Free program has given families with Autism the opportunity to surf, laugh and enjoy a day at the beach. As a grassroots local organization made up of moms, dads, friends and incredible volunteers that believe in the capabilities and possibilities for individuals with disabilities. 
Heart of Surfing began in 2014 as a surfing program for families with autism.  That summer, we grew from two families to over 50 coming together for a fun day at the beach.   Because of the excitement and benefits of being active we expanded to include pre and post season skateboarding.
Today we are a 501c-3 organization offering a variety of indoor and outdoor recreation activities for families and special needs individuals age 5 to 95. 
In 2016 we surfed with over 136 special needs participants, skateboarded with 54 special needs participants in the off season and included activities and classes in yoga, fitness training, martial arts, roller skating, Ice skating basketball shooting and numerous Arts and creativity events.
Because we are part of a larger community we like to give back and help others.  This year we collected toys for CASA for Children and participated in beach clean-ups.  We believe when you join together with others in the community  lives of all families will be enriched.